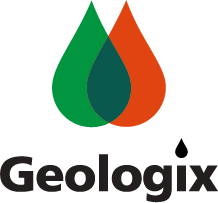 Geologix Limited
Stand: 8.E61
| DIGITAL TECHNOLOGIES & SERVICES
| VR & AR
| WELL DATA ACQUISITION / PROCESSING
| WELL LOGGING / ANALYSIS
| COMPUTER GRAPHICS
| SOFTWARE
| WELL STIMULATION
| STIMULATION EQUIPMENT / SERVICES

Geologix' software technology expertise and domain knowledge are brought together to solve our clients' digital challenges in a unique partner experience. We help customers digitally transform their information assets to drive better decisions, faster.
Our experienced team of industry advisors are engaged on digital transformation projects across industries. With the support of our software technology capabilities, our advisors deliver solutions to increase safety and reduce operational costs.
Our world-class Operations Geology system simplifies remote collaboration for your wells. At the heart of this is our cloud store and dashboard, WellXP, that connects rig geologists and real-time sensor feeds to your onshore teams. Discipline leads, management and partners can leverage the central WellXP dashboard to make fast and robust decisions.
Your geologists will be able to perform a range of workflows from well planning to abandonments with our GEOSUITE software. This includes workflows for core description, formation evaluation, well correlation, daily and end-of-well reporting, pore pressure and geomechanics as well as XRF and XRD log display.
We bring more than 25 years' global experience and expertise to complement your team with innovative technology, reinforced with an unrivalled backbone of customer support.
Products
WellXP connects remote experts and stakeholders to your wells. Aggregate real-time data, QC'd geological insights and critical reports in holistic dashboards that let you make better decisions, faster ...