15 Dec 2022
STRYDE opens new operation support warehouse and training facility in Dubai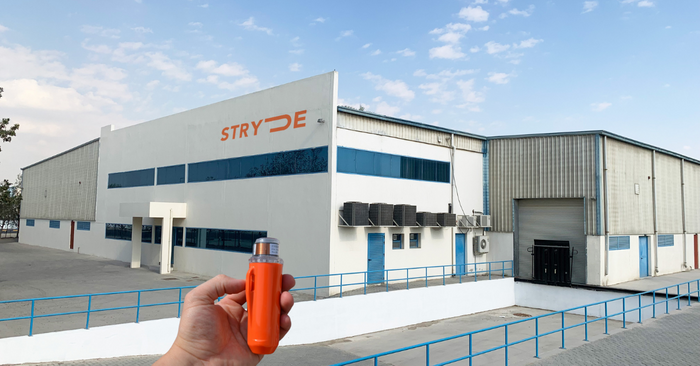 Seismic technology company STRYDE is expanding its presence in the Middle East with a million-dollar new multi-purpose warehouse in Dubai.
The new site, located in the Jebel Ali Free Zone, in Dubai, has the capacity to stock over 1 million land seismic nodes, available to purchase or lease, and hold the company's containerised node management systems, designed specifically for large-scale seismic surveys across the Middle East, Africa, India, Australia, and the Far East.
The warehouse, which joins the business's current locations in London, Norway, and Houston, will also offer classroom and practical training facilities for STRYDE users along with the ability to learn node deployment and retrieval activities in its secure yard. Based in one of the most powerful business ecosystems in the world, the new Middle East hub will enable the business to support fast mobilisation to its customers and continue its growth across the globe.
As the world's smallest, lightest, and most affordable nodal seismic imaging system, STRYDE's seismic solutions are used widely across the energy sector during E&P. The nimbleness and affordability of the technology is also playing an increasingly vital role in the development of emerging new energies and geotechnical risk studies.
Commenting on the expansion, Kevin O'Connell, Head of Field Operations at STRYDE said:
"We're very excited to be opening our multi-purpose warehouse in Dubai to service recently awarded contracts, having a dedicated training facility and a base for our team of expert field support engineers will enable us to provide real-time support to our customers."
Sam Moharir, Head of Business Development for STRYDE in MENA commented further:
"The past 24 months have been transformative for STRYDE in the Middle East, with well over 400,000 nodes working in the region across 12 separate campaigns, including the world's largest nodal seismic survey. We are continuing to see demand for our technology increase exponentially as the desired cost and operational benefits of nodal seismic acquisition becomes a reality."
The new facility will also act as a global centre for rapidly turning around STRYDE's unparalleled lease inventory.
STRYDE, which currently employs 63 people across the world, has already recruited 2 new employees for the site, Rolando Chang as Operations Supervisor and Salomon Codiban as Operations Support Specialist. They will join Sam Moharir and Kevin O'Connell in Dubai, with plans for further recruitment in 2023.
Mike Popham, CEO added:
"I'm delighted that STRYDE is moving into our new home in Dubai! We look forward to increasing our workforce in the Middle East over the next year as we continue to support the unrivalled demand for our game-changing land seismic technology and our fast-track data processing solutions.
"The scale of the facility demonstrates our ambitions in the region and is underpinned by the continued trend in the market to switch to STRYDE. Our investment in the Middle East is the latest step in our journey, helping cement STRYDE's position as the leading land seismic nodal technology provider.
About STRYDE
Formed in August 2019, STRYDE helps organisations from around the globe to acquire an unparalleled understanding of the subsurface. As the creators of the world's smallest, lightest and most affordable seismic nodes, who also offer fast-track data processing services, STRYDE enables high-density seismic to be affordable to any industry. 
STRYDE's customers benefit from a substantially reduced environmental footprint, reduced HSE risk, faster surveys and significant operational and logistical efficiencies before, during and after acquisition. Put simply, STRYDE's products and services save customers money and time while enabling them to deliver the best quality seismic data.   
To find out more about STRYDE and the game changing STRYDE Node™ please visit www.strydefurther.com.